Zen Yoga, Singing & Sound Healing Retreat with Sarah Warwick - MAY 27 - JUNE 3 2019
Retreats
A wonderful week-long Zen Yoga, Singing & Sound Healing retreat at Spectrum Turkey, a dedicated retreat centre nestled at the foot of the Golgeli mountains of sun drenched Dalyan, Southern Turkey. It is described by guests as "The ultimate relaxation experience."
Come and rejuvenate your mind, body and soul with a week of sunshine, delicious food, Yoga, Harmony Heart Songs, Sound Bathing, Sound Meditation, Mantra Singing, wonderful boat trips and so much more. This retreat is open to anyone, advanced or complete novice in all disciplines, and offers a wonderful opportunity in a fabulous location to relax and recharge.
Villa Cabrece (Spectrum, Turkey) is a very special healing place, a dedicated venue created for like-minded people who want a truly magical holiday where you can enjoy the sunshine, outdoor pool, beaches, mountains, fun and laughter, fabulous courses, boat trips, Hammam Turkish baths, massage, beautiful nature,  love and much joy.
Jane and Sarah have been close friends and colleagues for over 15 years and are delighted to be offering this retreat combining their artistry and skills to help create an unforgettable holiday. Jane will lead yoga in the mornings, and Sarah will lead harmony singing and sound bathing in the late afternoons.
No previous experience necessary!
Running the retreat are Jane Morgan-Jones and Sarah Warwick
About Jane
Zen Yoga is a dynamic yet gentle form of exercise that incorporates mindfulness and meditation. Jane aims to help people heal their minds and bodies through the practice of Zen Yoga, teaching compassion towards themselves, others and nature. She has spent the last thirty years studying various spiritual disciplines and applies these unique teachings to her lessons. She is also an experienced choreographer and 3rd Dan black belt Martial arts instructor. She is a four times British Karate Champion and silver medalist in the World Championships.
About Sarah
Sarah runs courses in sound healing, singing, therapeutic songwriting, creativity and authentic self-expression in London, China, Greece and Spain.  Her courses are based on the premise that we can all sing, that we are born with innate creativity, and that conscious singing, sound healing and songwriting can promote health, happiness and well-being. She's an exceptional teacher who brings fun, aliveness and innovative techniques to all of her courses and events. After 10 years in the music business as a successful recording artist, under the name of Sarah Washington, with three number one hits in the UK and the US, Sarah had a life-threatening illness. She turned her attention to healing sound and singing for heart and soul. She trained with Chris James, and for the past 18 years she has dedicated her time to helping others find their own voice and authentic self-expression.  Sarah will be offering a relaxing, inspiring and heart-opening combination of simple harmony singing, sound-bathing, sound meditation and mantra-singing.  No singing experience necessary!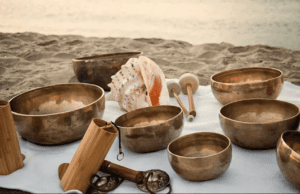 FEES & WHAT'S INCLUDED
Prices for 7 nights.
£775pp Single Room occupancy
£725pp Twin Room occupancy
To secure your place we require a deposit of
£175 Single room per person
£125 Twin room per person
Please email sarah@lifesong.co.uk to book your place
The course is likely to fill quickly so please get in touch if you are interested!
The balance can be paid in two instalments of £300.00
What the price includes;
Price includes accommodation, five days Yoga and Singing & Sound Healing tuition, brunch every day and 6 evening meals. Price also includes two boat trips with BBQ lunch on the day time trip and evening BBQ on the evening trip.
What the price excludes;
Flights and Transfers.
Transfers are approx £25 and will be added to your bill by Spectrum.
We eat out at a restaurant one evening which is not included in the price.
Additional lunches can be purchased at the venue or in Dalyan 15 minutes walk or a 5 minute bicycle ride away.
Optional extras include: An opportunity to indulge yourself fully with massages and Turkish baths, (Hammam) which can be organised on arrival. SUP Yoga , aerial yoga and paddleboarding available .
All food at Spectrum is vegetarian.
Fish or chicken is available on the boat trips.